Business Banking for Maine Start-Ups…Do You Really Want a Banker on the Starting Team?
Starting a Maine business? Thinking about starting a Maine business? Team up with the bank that has been starting Maine businesses for over 150 years.
Every successful Maine business was once just an idea, and over the past 150 years, Machias Savings Bank Relationship Bankers have seen and supported some of the very best. We are always on the lookout for the next viable Maine business! No matter how developed or far along your Maine startup business happens to be, our Relationship Bankers are here to help you get it ready to go—and grow.
Unlike many other banks in Maine, Machias Savings Bank is focused heavily on Maine businesses. In fact, many of our experienced and dedicated relationship bankers are Maine business owners themselves. From sixth-generation potato farmers to artists to entrepreneurs, much of our team has lived the fervor, frustration, and freedom of being their own boss and building a Maine business.
"I work as an independent photographer and I just started a cleaning company," Amanda Tupper, AVP, Business Banker shares. "I know firsthand what it takes to be a successful freelancer and what it takes to start and run a business. I think that is one of the reasons I get so personally invested in the businesses I work with. I know how hard it is! I want to see that hard work pays off."
Machias Savings Bank has everything you need to succeed. "We see ourselves as a SWAT team for small businesses," Mike Sutton, Vice President, Business Relationship Banking, says passionately. "Whatever tough situation you may find yourself in, we look for the best way to get you through it. And when we see an opportunity, we have the experience and resources to help you make the most of it."
And unlike other banks, we believe you don't need to be a big business to make Maine better. "Small, unique businesses are what make Maine so special," Amanda Tupper raves. "We know when we support them, we are keeping Maine moving forward, too." 
Do you have an idea, a new solution, a better service that you believe can be a successful Maine business? Share it with our Relationship Bankers and let us show you how we can help!
We Help Maine Start-Up Businesses Get a Strong Start
It all begins with your business plan
Know what you want to do but not sure where to start? Sit down with an experienced Machias Savings Bank Relationship Banker. Unlike other banks, we are willing to work with you at any stage of your startup— and preferably before you open an account or even begin applying for a loan.
Our team can tell you what you will need to do to put your Maine start-up in the best position to succeed. From writing your business plan, legally establishing your business, and filing state and federal forms, to securing office or production space, and finding accounting or marketing expertise, we will help you connect with effective community resources.
We Help Maine Start-Up Businesses Acquire Working Capital
Open-minded credit evaluations
One of the biggest challenges Maine startups face is that the emerging business hasn't been around long enough to build up a solid credit history. When start-up businesses apply for bank loans, their owners and founders often need to use their personal credit histories on the loan applications.
"Big national banks are not often willing to learn the story behind your credit score, but we are," Mike Sutton says, reassuringly. "We never forget we are investing in people, not math problems. If your credit score is less than perfect, but you have years of relevant experience or a promising idea, we will work with you to find a way forward."
"I recently had an experienced sternman walk into my office looking for a boat loan," Amanda Tupper recalls. "Before he sat down, he told me straight away he had filed for bankruptcy several years ago. I told him we've all had rough times and asked him to pull up a chair and tell me all about it. It turns out that in the years following, his credit record had been spotless! We were able to fund his boat and offer him a seasonal repayment plan so he could steady his cash flow."
Flexible loan terms
Tourist season. Scallop season. Camp season. Hunting season. At Machias Savings Bank, we are already familiar with the rhythms of life in Maine and we know how they affect the finances of Maine businesses. Our lending and banking options include built-in supports for businesses that can expect to see wide swings in cash flow during the year.
"If you are starting a seasonal business in Maine—fishing, farming, tourism, or hospitality—Machias Savings Bank is going to be your best bet for working capital," Mike Sutton says. "From interest-only payments and seasonal payments to flexible collateral requirements, our small business loans and credit lines are structured to give businesses like yours a better chance of success." =
We won't turn you away.
If our relationship bankers are unable to lend to your Maine start-up business right away, we won't just turn you away. Our relationship bankers help you develop a road map forward through tough financial situations to get financing. We can even put you in touch with credit and business counselors that can help!
If our relationship bankers are unable to lend to your Maine start-up business right away, we won't just turn you away. Our relationship bankers help you develop a road map forward through tough financial situations to get financing. We can even put you in touch with credit and business counselors that can help!
We Help Maine Start-Up Businesses Grow
Adding employees
Not only can our relationship bankers refer you to one of our partners to help you set-up a payroll system, we can also make sure to remind you to handle key legal and regulatory requirements.
"When you reach new business milestones, we want to be involved," says Mike Sutton. "Hiring your first employees? Great news. Just a few questions. Are you properly incorporated? Do you have a federal tax ID? Have you filed all the appropriate forms with the Department of Labor and Department of Revenue? Have you reviewed your business insurance to minimize your liability? How will you handle and resolve employee issues? Have you considered getting an employee handbook and/or hiring a human resource generalist?"  We ask these questions make sure that you have the best processes and procedures in place so that the foundation of your business is secure.
Business lines of credit and equipment loans
As your start-up grows, you may need additional equipment or working capital to expand product lines or move into new markets. We will help you.
Small Business Academy courses
Machias Savings Bank also runs free classes for small businesses on important topics like marketing and insurance. For business owners in more rural and remote areas, these courses can offer a chance to connect with other business owners and create exciting new opportunities for growth.
"Our weekly trainings in the County and in Ellsworth are really well attended and so appreciated," Amanda Tupper explains. "We've recently run workshops on how to set up and promote your LinkedIn profile, how to claim and clean up your Google listing, and more—small things businesses can do that have a big impact on their bottom line."
"Did you know that if you put your business logo on your personal car, you may need extra vehicle insurance?" Mike Sutton adds. "Our business insurance training was filled with great tips that help small businesses avoid pitfalls and stay on track as they expand."
We Help Main Start-Up Businesses Weather Tough Times
Recession funding and emergency loan programs
We want to see every Maine start-up we work with make it. We know tough times loom for any business. When you hit a rough patch, your Relationship Banker will be there to help you see it through. Proactive help, not reactive help, is a signature of our approach to start-up business banking. After all, start-up businesses are more vulnerable to setbacks than their more established peers.
"Honestly, I live to problem-solve for small businesses," Amanda Tupper admits. "Turn to us in tough times. We can turn things around."
There is probably no better example of this commitment than our all-hands-on-deck effort to extend Payroll Protection Program (PPP) loans to Maine small businesses.
"When the coronavirus crisis hit, I picked up the phone and called every business I know and love in my community to tell them about PPP," Mike Sutton says. "It did not matter if they banked with me or not—I wanted them to know. And you know what? Most of those businesses had no idea these funds were available and that they might qualify. And you know what?  Each of them did qualify!"
One of those small businesses was a small, local bakery suffering through the crisis. The PPP funds Machias Savings Bank secured for them helped keep the business open. "There were tears involved," Mike Sutton admits. "The owner's mother called me to thank me."
In the spring of 2020, Machias Savings Bank wrote 2,167 PPP loans over three months.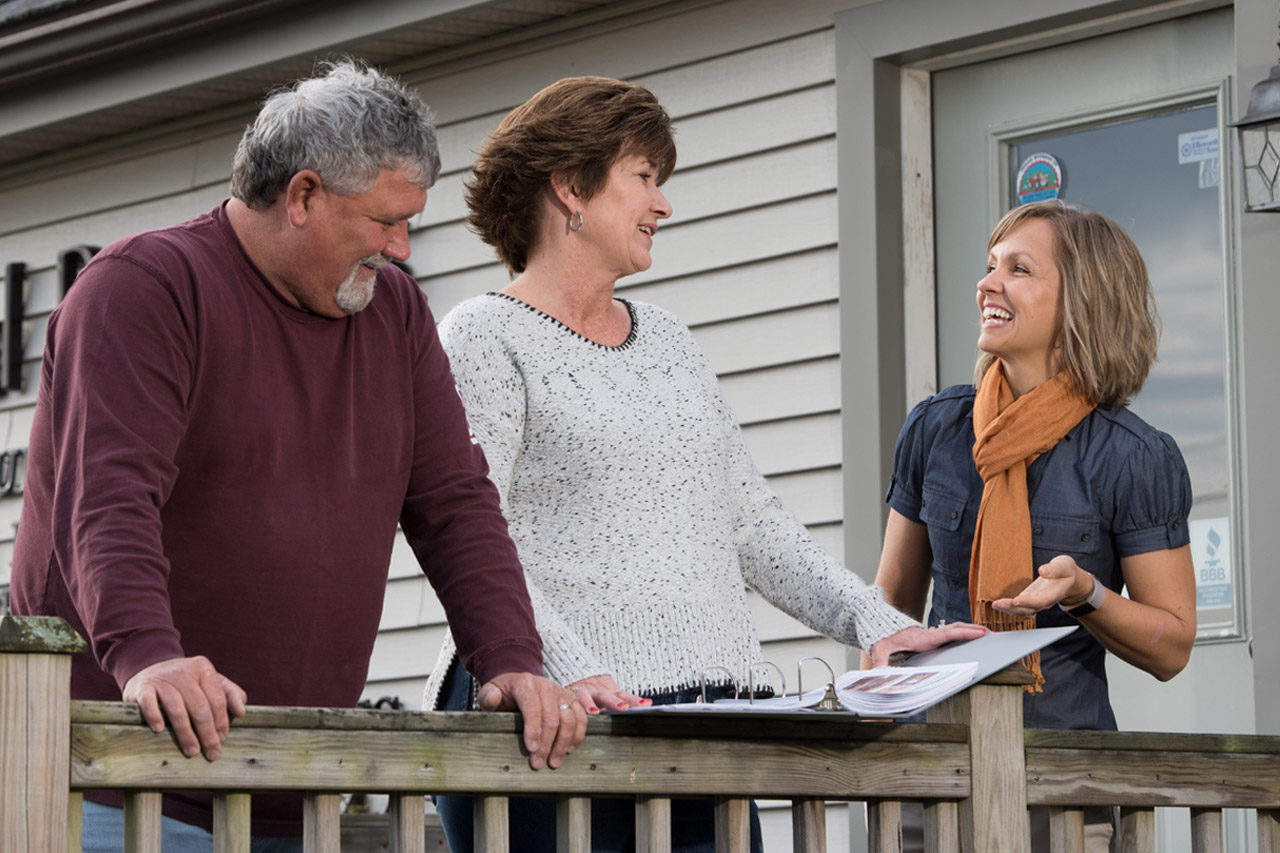 We saved 19,589 Maine jobs and 2,103 Maine businesses. Only 85% of those businesses banked with us at the time they applied for PPP funds. When we say we are committed to moving Maine forward, we mean it.
Let's Get Started.
Recent events have many Mainers considering career changes and exploring new business concepts. If you want to start your own business, maintain or grow your proven business, or are looking to pivot your existing business, we want to talk.