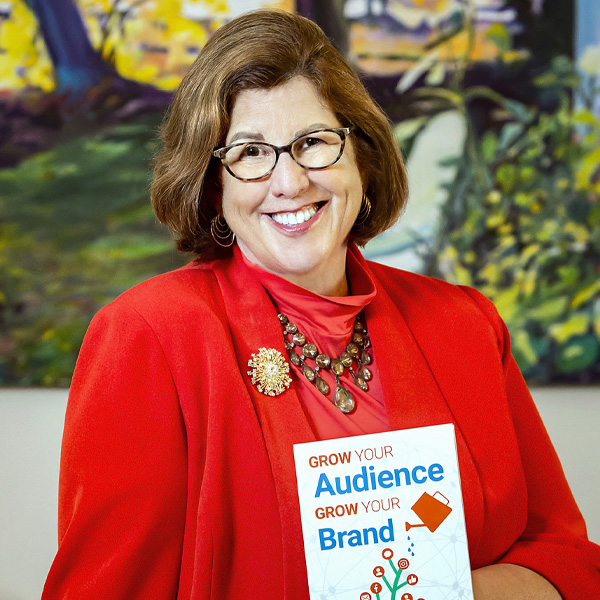 How to Build Your Personal Brand with Nancy Marshall
Personal brand expert, Nancy Marshall, shares with us her branding expertise. From how to discover your personal brand, appropriately implementing your brand, to how to tell if your efforts are working, there is no shortage of information to be found here.
What's the difference between a personal and professional brand?
A brand is essentially how people feel about you, so your personal and professional brand are one and the same although you may project yourself differently in your personal and professional life. Your personal brand is what differentiates you from everyone else who does the same thing as you, whether it's as a parent or as a business owner.
How you make people feel is the sum of what you project to others, whether it's in a work setting or in your private life. For example, I have a friend who was known as the 'summer plumber' because he skied all winter long and only did plumbing in the summertime. He was very relatable to other skiers who liked doing business with him and talking about skiing.
I am personally known for my enthusiasm in whatever I do, whether it's going for a boat ride with friends or creating a strategy for their marketing and public relations at The PR Maven.
Ultimately you want to be memorable, and you want people to know, like and trust you so they want to do business with you and be your friend.
Is a personal brand only relevant for business owners and executives? Or all professionals?
A personal brand is relevant for everyone. We all have one, whether we 'curate' it or not. You can convey your personal brand to others in a variety of ways, whether it's through your social media, networking events, speaking engagements or even when socializing with your circle of closest contacts. You are known by the company you keep, and your network of contacts helps to define your personal brand, so if you are a professional who wants to advance in his or her career, it pays to have a wide circle of other professionals who know, like and trust you.
What's a good starting point for someone looking to build a personal brand?
It's best to ask others what they think of you to create the building blocks of your personal brand. You could even email your network and ask them what they feel differentiates you from others who do what you do, and what's memorable about you, both personally and professionally. You can then create a summary of what they say about you to define your personal brand. Explore the essentials of personal branding or start using these 6 tips to build a compelling brand online.
What questions should someone ask of themselves to discover their personal brand?
How do I make people feel?
Do I show up consistently online and in person? When people have met me in person, does my social media and website present my personality and reputation consistently?
What is my reputation? Do I have a reputation for being the best at what I do, or the cheapest, or most expensive, or fastest, or easiest to work with? Ask a circle of contacts in your network to help you describe your reputation.
What makes me memorable?
What experiences and people in my childhood influenced the person I became as an adult?
How has my educational background and career experience formed the kind of professional I am today?
How did my family and friends as a child impact the person I am today?
What kind of things do I do now that make me different? (Do I run marathons, hike 4000-foot peaks, conserve land, read books, cook amazing meals, travel widely, cook for my friends, have a large family?)
Am I an expert at something?
What am I passionate about?
What would I do even if I weren't being paid to do it?
How do you know if your personal branding is successful?
Personal branding is all about growing your network. You will know if your brand is successful if people are attracted to you because you have a strong brand. Your branding is successful if you are able to attract people into your network because of your reputation and how you make people feel. For example, if you become the president of the United States, or the mayor of a large city, or the governor of a state, you have a strong brand. If you become the president of a Fortune 500 company or a national association, you have a strong personal brand.
You may also repel certain people who are not attracted to your brand, and that's OK, too. You do not have to attract every single person in the world and there is no person on this planet who attracts everyone.
Perhaps your goal in life is to run a small company and have the very best company in your industry niche. A strong personal brand helps with that because you will have a good reputation among people who need what you have to sell. You may not need to be known as well as the president of the United States but, you will need enough customers to buy from you and will refer you to others.
Essentially, most of us won't all be as well-known as the president of the U.S. or as Oprah Winfrey, nor do we need to be, but we need to be known by enough people to achieve our personal and professional goals.
Do you have any advice on spreading your personal brand without being braggadocious?
Think of your targeted audience and then be of service to them. For example, if you are a bookstore owner, you want to have a strong network of readers and you should constantly recommend books to them and help authors to connect with your customers. If you are a bakery owner, you want to recommend the most delicious baked goods to your customers. If you are an auto body repair company owner, you want to provide advice on how to keep your customers' vehicles looking great.
Instead of saying "I am the greatest auto body repair shop owner in Maine," you would say, "I want to help you maintain the beautiful look of your car, so I am going to provide weekly tips on how to take care of your car through my social media and my email newsletter."
In my own position as a public relations agency owner, I try to provide clients and prospects with information that will help them do their own PR or understand how PR will help them achieve their own goals. I also try to connect with people in the media and assure them that if they ever need information to do a story, I will be ready and willing to provide them with whatever they need. One time I sent an employee to Monhegan Island to shoot photos for a story in the Washington Post because the editor there had a tight deadline, and we didn't have any photographs in our photo library. You can be sure that the editor will remember my PR agency as having helped them to publish a beautiful story about the state of Maine.
How does someone know where they should be telling the story of their superpower?
There's an expression: fish where the fish are. In business, you need to go where your targeted audience hangs out. So, if there's a physical event where your people are going to be, you need to be there personally and perhaps you want to sponsor it or speak at it. If your targeted audience typically reads a certain publication or watches a certain television or radio show, you should advertise there.
If you know your targeted audience, you can connect with them in a deep and meaningful way. And you can't be a one-hit wonder. Don't expect to show up just one time and be remembered for a lifetime. Form meaningful relationships then stay in touch. I always say that if you meet someone in person, you need to connect online and stay in touch through social media or email. And if you meet someone online, you should endeavor to meet them in person and stay in touch face-to-face.
I have a monthly e-newsletter for my agency where I send out helpful articles and tips on the last Tuesday of every single month. Growing your email list is one of the secrets to connecting and staying connected over time.
How has the pandemic changed your approach to 'showing up in person'?
Showing up in person has definitely changed with the pandemic. There have been fewer opportunities and when we are able to connect in person we have our smiles covered by masks. It's so irritating!
Video has become so much more important. Now we must show up on peoples' screens with video. My podcast, The PR Maven® Podcast, is now done on Streamyard which is both audio and video. I also do Facebook Lives when I am doing something interesting or in an interesting place.
However, we can have face to face contact with a small number of people in places that are safe so it's still important to seek out opportunities to connect with people. There are actual happy hormones that are transmitted between human beings when they are face to face. Serotonin, oxytocin, dopamine and endorphins are all generated when people are around others. You should try to connect with others to generate more happy hormones.